The Chamber has three distinct committees, and one partnership. The committee teams are Business Education & Sustainability, Commerce Advocacy, and Member Services. Our Health & Wellness Committee integrated into Winchester's Activity Coalition. We encourage every Chamber member to become a part of one of these Teams. It is our desire to help promote vision, share fresh ideas and encourage leadership in order to improve the quality of life for all our citizens.
If you are a chamber member and would like to serve on one of our committees please contact the Chamber office at (859)744-6420. We are glad to help you get involved!
To assist the Chamber of Commerce with membership retention and recruitment through special events planning and the maintenance, creation and implementation of membership programs.
We have a GREAT team of hard workers who bring the fun while planning these large events.
Valerie Johnson / Peoples Exchange, Chair

Cindy Banks, Chamber Executive Director
Tammy Moberly / Clark Energy Cooperative,                               Chamber President                                                                             Taylor deVilliers / Traditional Bank
David Wills / Community Trust Bank
Sherry Hampton / Community Volunteer
Mason Guy / Traditional Bank
Lauren Frazer / Clark County Farm Bureau
Betty Jane Glasscock / Court Street Gifts                                                Allison Roberts / Traditional Bank
Debbie Hohman / Creative Coffees Roastery
Latonia Bell / Winchester Family Practice                                            Deb Parr / King Brothers Used Cars
Our team has the privilege of planning two Chamber events annually: The Annual Chamber Banquet and the Annual Golf Scramble.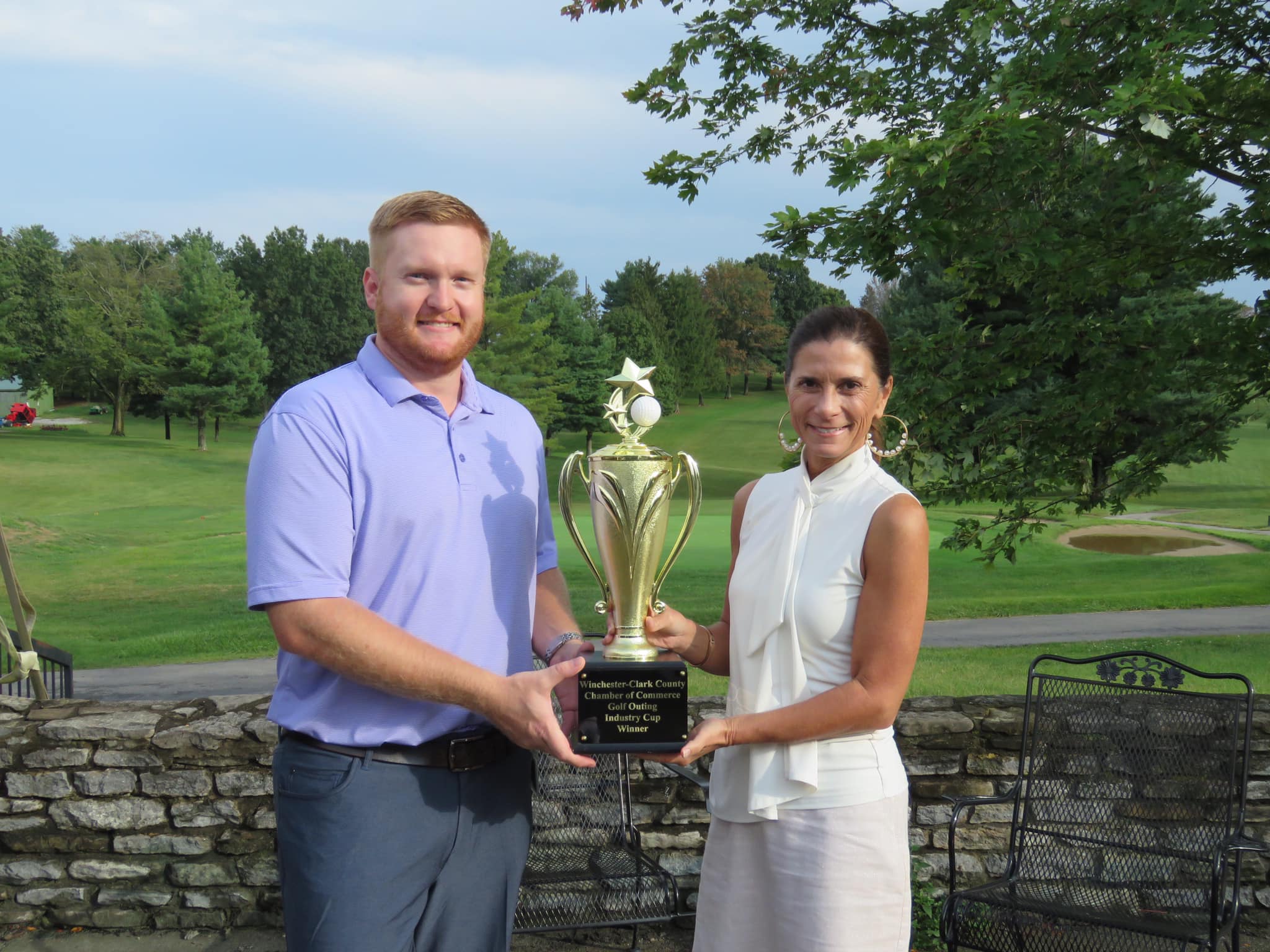 Annual Chamber Golf Scramble
In September, we run the only fundraiser of the year: the Chamber Golf Scramble at the Winchester Country Club.  The number of teams increased within the last few years so much that we now have an AM and a PM tee time.  You can start your game with a Bloody Mary, lunch is provided at no charge and the Beer Cart travels around during play.  (The Beer Cart also has Water and Ale8)  Hole Sponsors provide freebies, and games.  Two coveted trophies are presented to the winner in Business Class and another in Industrial Development.
See More Photos from the 2022 Scramble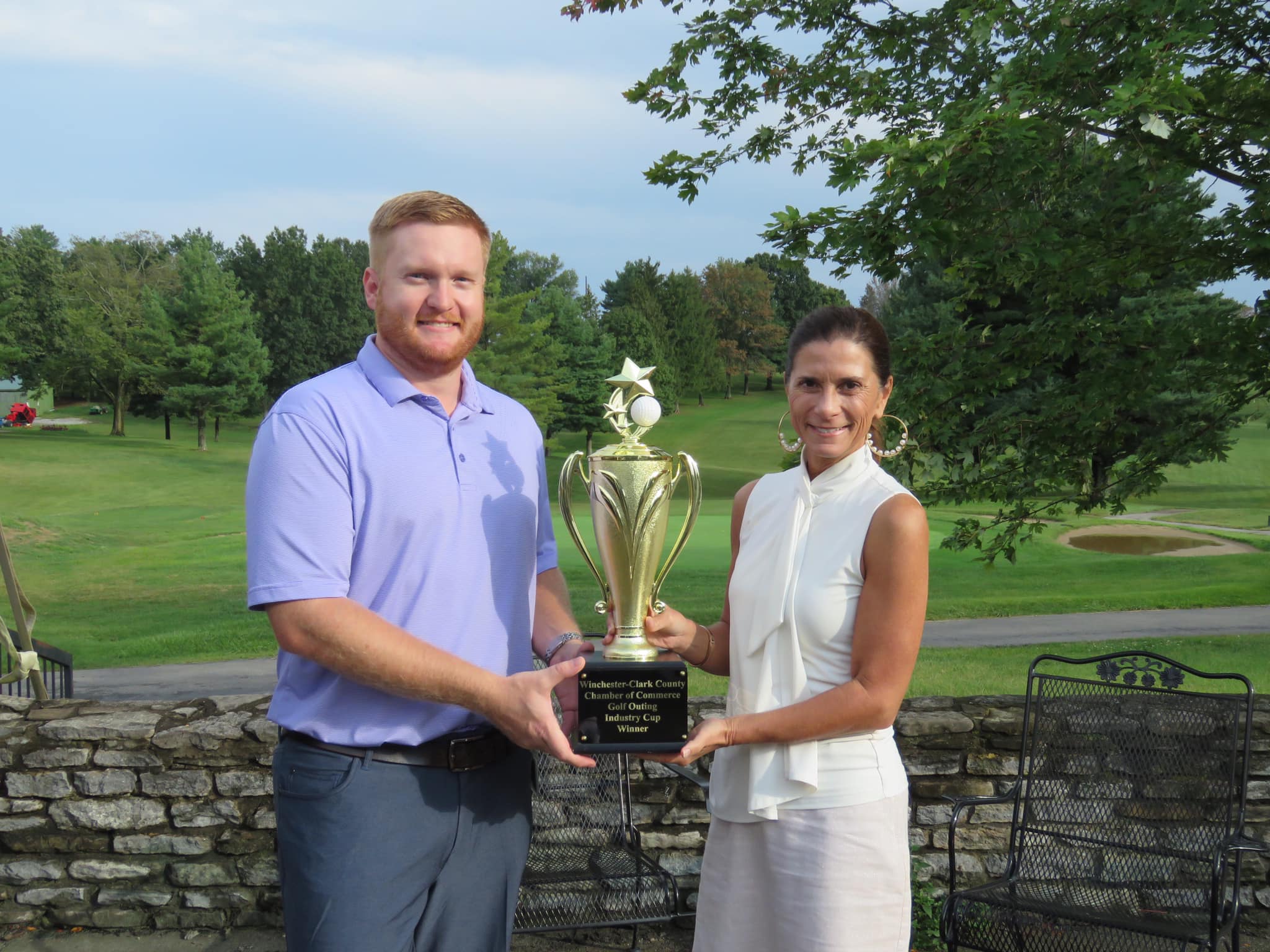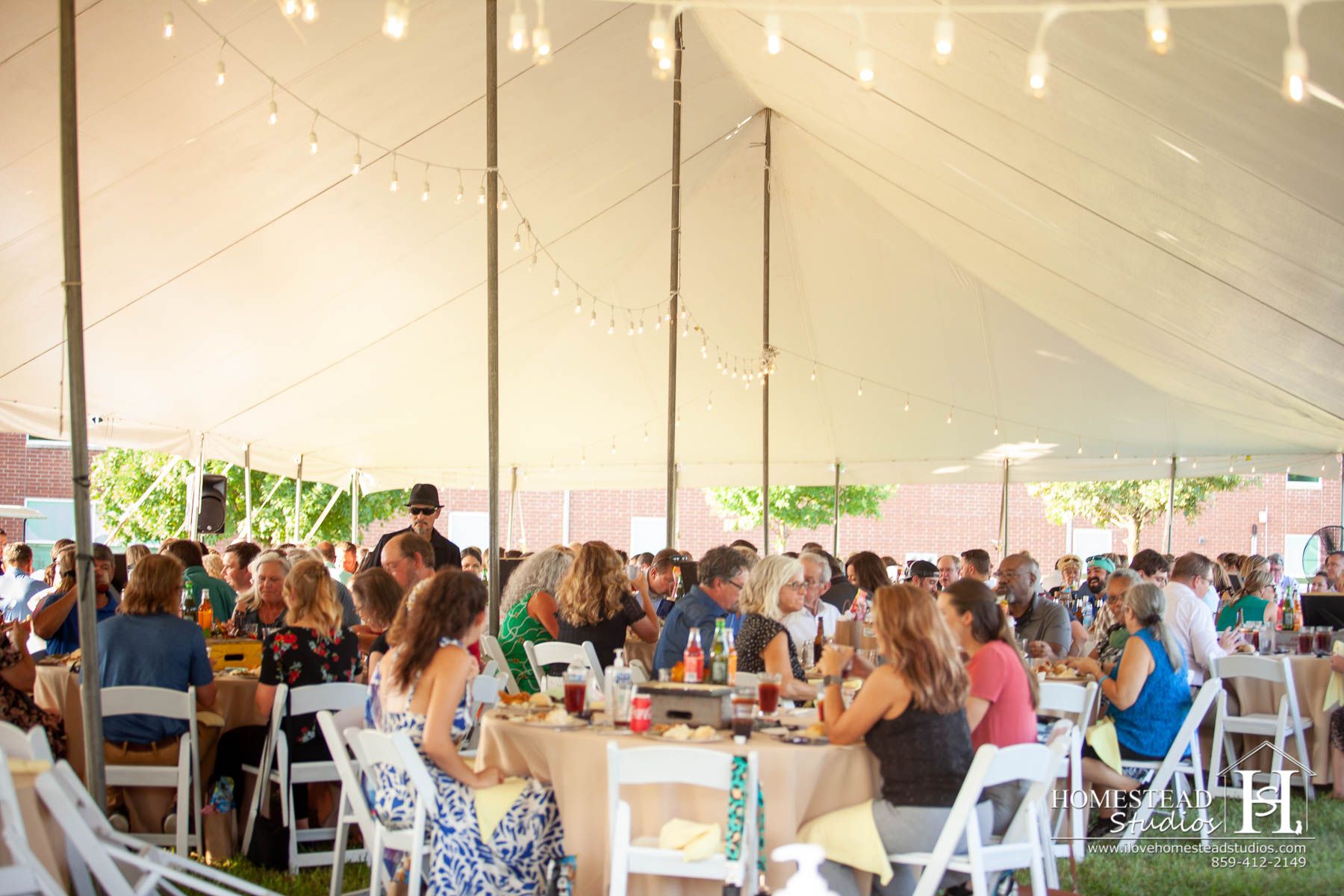 Annual Chamber Banquet
We provide a celebration of the past year's accomplishments at the Chamber Banquet. It is a time to acknowledge the Leadership Winchester graduates and Winchester Businesses and Individuals who have made a positive difference in our community. The attendance is typically between 300 and 350 leaders in our community.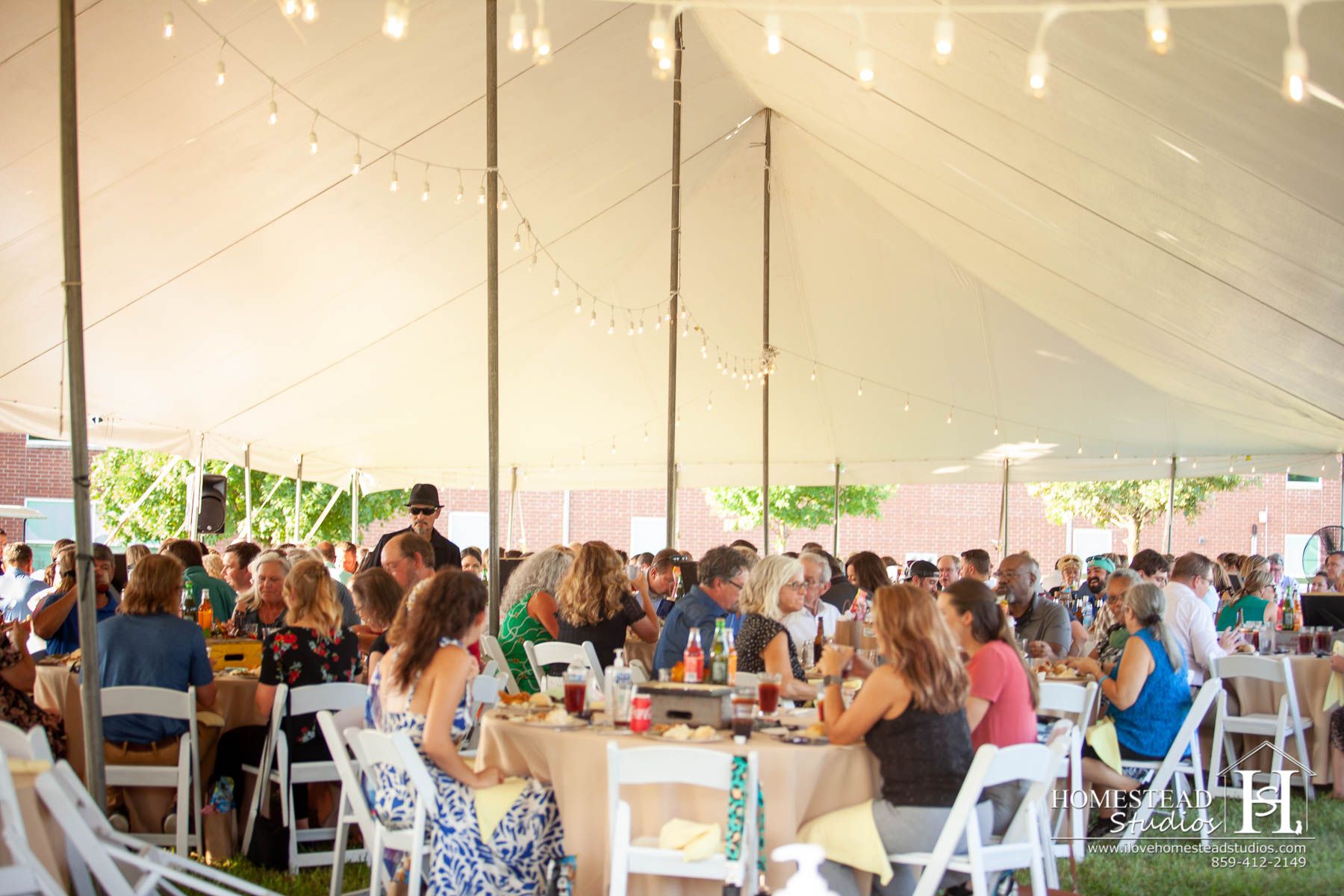 Business Education & Sustainability Training
To provide meaningful opportunities for Chamber Members' active participation and input.
Assure the prolonged success of member organizations and adding value to our membership by providing lunch and learn sessions, new member/existing member orientation, getting the most out of our membership & speakers of interest.
To identify, research and resolve issues important to the members and the business community.
Develop training as a result of member input
Facilitate educational resources
Establish forums for open discussion
Implement programs that will support long-term member success and effectiveness
Partner with organizations who support and promote similar visions
The purpose of the Chamber Community Advocacy Team (CAT) is to carry out an advocacy program on behalf of the Chamber membership and business community within the governmental and political arenas by fostering effective working relationships. We are dedicated to identifying critical issues and providing a voice for members at the local, state and federal levels. Our group of volunteers meet monthly and monitor relative legislative, regulatory and municipal issues regarding public policy and community issues impacting Winchester and Clark County.
Advocacy is top priority and through our strong relationships with elected officials, we advocate for the right of local businesses and take positions on proposed ordinances, rulings and legislation. We work in close collaboration with members to ensure their needs are heard and generate meaningful support on their behalf. We may also propose a more acute response by advancing recommendations to the Chamber's Board of Directors for further action.
Nick Comer / East KY Power,  Chair
Alisha James / Boonesboro Trail Senior Living
Cindy Banks / Executive Director Chamber
Dustin Howard / Superintendent of Clark County Schools
Ed Burtner/ Mayor
Emilie Cope / Members Heritage
Gardner Wagers / Community Member
Greg Wood / Freedom Realty & Property Management
JoEllen Reed / Assistant Mayor
Josh Wood / Freedom Realty & Property Management
Kitty Strode / Community Volunteer
Robert Blanton / Magistrate
Scott Hisle / Freeman Corporation
Create useful and meaningful forums for discussion
Pursue dialogue with local, regional and state legislators
Provide direct advocacy for business and industry
Support critical partners such as higher education and K-12 education
The mission of the Winchester Young Professionals group is to attract, retain and connect, young talent in our community and provide them with an opportunity for meaningful personal and professional growth.
Who/what is a Young Professional?
Anyone that works or lives in Winchester, Clark County & is interested in networking with other young individuals. The targeted age range is from 20ish-40ish; however, a lot of people in their 40's are just starting over in a new job or maybe taking the plunge to start up their own business, so if you feel you can benefit from the programming, you are welcome!
Lauren Frazer Clark County Farm Bureau Insurance
Alyshia Martin / Martin Appraisal Group
Josh Wood / Freedom Realty & Property Management
Maggie Young / KORT Physical Therapy
Kyle Finley / Community Member
Hannah Toole / Community Member
Join the Winchester Young Professionals for quarterly events intended to educate on local resources and issues and highlight successful people, businesses and organizations in the community. These events are also intended provide the space for you create a network among Winchester's numerous industries.